Quality specifies to what extent a product or a service corresponds to the degree of fulfilment of the customers' expectations. Therefore, our top priority is to achieve the highest possible customer satisfaction.

To fulfil and exceed the expectations of our customers, modern methods, processes and machines are applied; always involving our employees. The continuous improvement is realised in a progressive and selective manner and is expressed by perfecting the optimisation of a product or service. We act according to our corporate philosophy: error prevention instead of trouble shooting.

Our fundamental principle is to ensure the product quality by means of systematic and consistent controls and the product safety entailed with it.
A product failure can have unpleasant consequences, which must be avoided by all means. Our competent consulting service requires a high level of professional expertise. In order to meet this special requirement, we offer our employees an extensive training course programme. Our business success significantly depends on the employee involvement to act responsibly and work independently. Therefore, our quality management system is aimed to achieve high employee satisfaction together with the customer-oriented goals. The basis of our business activity is sustainable development, which involves all departments and business areas. Resource efficiency is a central concern for us. We intend to avoid any kind of waste.
SUPPLIER MANAGEMENT
Another focus of the quality management is on choosing the most suitable suppliers. This requires a concentration on the best and most efficient partners that effectively support us in the realisation of our objectives. The deciding factors are product quality, quality of cooperation as well as specific performances.The listed suppliers are regularly evaluated. Due to consistent evaluation parameters, the suppliers with the best results are identified. The evaluations of the suppliers are communicated in a transparent and standard way. They serve as basis for further improvements in the cooperation between suppliers and Goebel.
The lower rated suppliers have the opportunity to improve themselves independently and attune to the quality requirements and environmental demands of Goebel.

The objectives of the supplier management are guarantee of quality requirements and environmental demands, supplier development as well as long-lasting cooperative partnership arising therefrom.

Our major priority is an efficient, open, fair and equal communication. We are looking forward to cooperative partnership.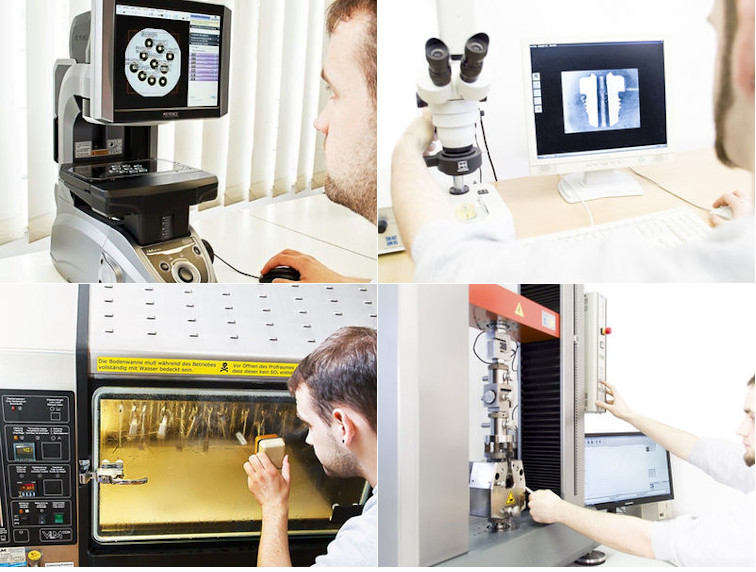 TESTING LABORATORIES
Well-trained staff and functional precise testing equipment are important requirements for reliable test results.

Thanks to state-of-the-art measuring and testing equipment as well as well-trained staff, we can guarantee perfect product quality. 

There is an ongoing investment into the department Quality Assurance, which is provided with the well-equipped testing laboratories.

The testing laboratories of Goebel Gruppe are located in Germany (Erkrath) and China (Shanghai).

The principal tasks of quality management – incoming inspections, initial sample inspections, processing of complaints, testing of new products, continuous product enhancements as well as product developments – are elaborated in close cooperation with the customer and product management.

The initial samples of the Asian suppliers are checked in the testing laboratory in Shanghai. Samples of every production batch are tested to determine whether they meet the quality requirements.
TESTS
The incoming products are subject to acceptance tests according to determined random sample control plans. The type and material of the product as well as the testing parameters define the testing and verification procedures of the corresponding product.

Essential steps are the preparation, delivery and archiving the high-quality test reports that serve our customers as important documentation and basis for decisions.

Since the Goebel testing laboratory is located in Erkrath (and therefore near the central storage), it is possible to access the products quickly and easily. We are happy to check your order. If you are interested in a particular offer, please get in touch with you contact person(s)/vendor. We will be happy to provide advice.

The following tests can be conducted in the testing laboratory of Goebel:
Internal tests
| | | |
| --- | --- | --- |
| control of layer thickness | material analysis stainless steel | heavy metal determination |
| Kesternich testing | screw-in test (drilling screws) | pulling and pull-over strength test |
| Torsion test | torque | dimensional inspection |
| profile inspection | shear test | tensile test |
| riveting mandrel press-out force | riveting mandrel breaking force | remaining riveting mandrel locking device |
| surface pressure | thickness control  | (water column test) |
| Sampling report according to ISO TS 16949 or your own data. | | |
| | | |
External tests
| | | |
| --- | --- | --- |
| wet-chemical material analysis | RoHS Screening | hardness testing |
| material analysis elastomers | environment simulation | enduring stress test |
| salt spray test | structural analysis | optical sorter |
| friction coefficient examination | grinding tests | and many others |
If you want us to carry out specific tests with other standards other than our regular standards, you must send us a request stating the desired standards.

In case of specific testing requirements or safety-relevant applications, additional tests (depending on the item and use) can be performed at the commissioned and authorised plant-independent testing institutes or by technical experts. The costs for additional tests are not included in the product price.

As specialist in the development of innovative and high-quality joining elements as well as relevant processing systems, we provide a sound technical knowledge. We consider customer-specific requirements as a challenge. We develop new joining elements in cooperation with our customers and product management and check them in practice-oriented conditions.

The batch traceability allows tracking products or production batches as well as special technical materials to the producer, substances or specific product characteristics or characteristics of the manufacturing process throughout the whole or partially reconstructible supply chain.

The batch traceability is especially important in the supply chain of the food industry, automotive industry as well as railway engineering and aircraft industry.

Many customers confirm the high quality standard of Goebel in their daily business.
CERTIFICATES