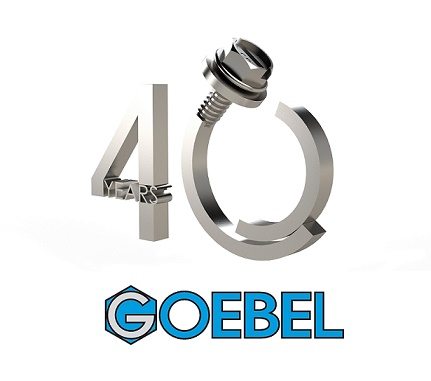 40 Years of Goebel Group
GOEBEL - a success story - from a garage to a niche market leader founded in 1979 by Brigitte Goebel and Klaus Arens – with a focus on quality from the start - which today is found in many industries worldwide - in the Power plant technology, on oil platforms, chemical plants, refineries, solar systems ... just to name a few examples ...
Customers such as RWE, Shell, BP, Statoil, Chevron, BASF, DOW Chemicals ... - to name just a few of the well-known names - the car manufacturers Maybach, Audi, Mercedes, the German railways, - are among our customers - a small Connecting element - a screw or a rivet - with the highest quality standards - is manufactured in cooperation with our manufacturing partners - and highly appreciated by our customers - that's what GOEBEL stands for.
It all started 40 years ago - in Unterbach near Düsseldorf. One year later, in 1980 - we moved to Gerresheim near Düsseldorf - we rented an office building with a small hall - we expanded within 9 years - renting one garage after another until there were none left - relocation was due - and with the relocation the expansion of the warehouse with the administration building - we moved to Erkrath. In 1989 (30 years ago) Erkrath Kreis Mettmann - the present location - became our company headquarters.
It was soon realised that it was necessary to settle down, specialise, seek market leadership and claim - "USP - unique selling points" which were and are characterised by the invention of innovation and innovation in response to customer and market requirements - setting the necessary accents - asserting market leadership that continues to this day - which has been successfully implemented several times by our medium-sized company - strong teamwork - a "hidden champion"!
One of the milestones is certainly the double product award (the ISO award) in the years 2000 and 2008 - for two screw developments - the BI-metal self-drilling screw and the SUPER 3x harder self-tapping screw - which have - to this day - revolutionised the efficiency of processing in insulation technology.
However, it was also recognised that a second foothold was needed- and so 2001 started with riveting - at first only standard blind rivets - although with the aim of one day playing an important role in the market - was the vision and untiring will - to high strength blind rivets for demanding constructions - blind rivet nuts and their processing tools - which today account for 50% of the GOEBEL Group's turnover.
In 2007 GOEBEL was successfully certified according to ISO 9001:2000 - for the development - production and sale of self-tapping screws, self-drilling screws, blind rivets, dowels and setting tools - as well as for their repair.
2011/2012 - new relocation - but now only up the street and into the former lighting factory and rebuilt. Spacious offices, training room, meeting rooms, etc. a representative building - reflecting the quality of GOEBEL.
Quality managementplays a major role in the GOEBEL Group - with 3 laboratories - one in Erkrath with
Tensile testing machines, X-ray, zinc transmission thickness measurement, cross sections, screw tests, torque tests, etc.
- together with the two other GOEBEL Group laboratories in Shanghai and Indonesia - ensures the high quality of GOEBEL.
The core values and corporate culture of the GOEBEL Group:
Honesty
Passion
Taking the initiative
Highest quality standards in itself
Team spirit
Clear communication
Mutual support
These are still the pillars of success today - and they have contributed to the development of the GOEBEL Group over the years - and it is still on the path of expansion.
Numbers, dates, facts - according to our mentor Dr. Winkels - count today more than ever - and we live them at GOEBEL - of which I am very proud - change has come!
Together with my two authorised signatories - our commercial director Sebastian Köhr CFO and Sven Hannisch CIO - I now manage the dexterity of the GOEBEL Group as CEO - I have been with GOEBEL for almost 25 years myself now.
With 5 sales offices, GOEBEL is globally positioned:
2004 - GOEBEL BV (Tilburg) - The Netherlands under the leadership of Werner Boons
2005 - GOEBEL (Paris) France - headed by Isabelle Genot-Gac
2010 - GOEBEL TCS Shanghai China - headed by Tony Xi
2015 - GOEBEL Kanie Polska - under the leadership of Martin Woznica
2016 - GOEBEL Houston, Texas USA - under the leadership of Christian Reich
2018 - GOEBEL Mexico City - headed by Lynda Portillo
In addition, we are successfully represented worldwide by 35 exclusive distribution partners and thus ensure the timely delivery of our products.
I would like to thank all the employees, friends and consultants of GOEBEL - whom we have been able to successfully supply in the markets over the last 40 years - our valued customers.
Sincerely, Marcel Goebel, CEO of the GOEBEL Group.